Chief Augustine Onyemaechi Mazie, is the Chairman, Board of Trustees, New Paradigm Transformation Initiative, NPTI, and strong advocate of unity, peace and progress of Nigeria. A retired Air Force personnel, he served as the Chairman Unity Campaign Team for the Election of the National Chairman and National Secretary of Peoples Democratic Party (PDP) in 2001 and is a two-time Principal Secretary of PDP, 2001 and 2005. In this interview, he bared his mind on the chances of the presidential candidates of the two major political parties in the forthcoming elections, saying that Gen. Muhammadu Buhari would have toppled Jonathan's administration if he was still in the military. He also spoke on why former President Obasanjo is having issues with President Jonathan. Excerpts.
What is NTI's assessment of Jonathan's re-election bid?
The New Paradigm for Transformation Initiative, NPTI, is a socio-economic and Non-Governmental Organization, committed to the improvement and sustenance of peace, unity, positive transformation of Nigeria, and socio-economic wellbeing of the Nigerian people. In essence, one of the cardinal principles of the organization is to support any leader that upholds the principles of good governance.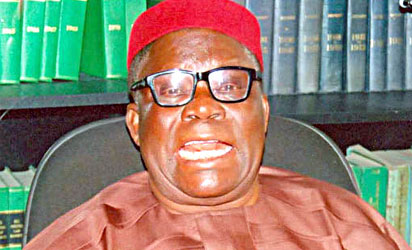 Presently, it is pledging its support to President Goodluck Jonathan because the members were convinced that the President truly inspired them through his transformational policies and initiatives like FoI law, free and fair elections, institutional restructuring, economic reawakening and the ongoing infrastructural revival. As stakeholders in Nigeria, we in NPTI can talk about what is wrong with Nigeria, if the President is not tackling the Transformation Agenda, which he promised Nigerians, but if Nigerians are misunderstanding what he has been doing, we will help him to project his good work.
Don't you feel jittery that the President is not getting the expected support?
Well, I can tell you that there is no fear at all in the Jonathan camp as I speak. I have come to realize that some people criticize everything that is begin said about the President without actually knowing what is being done. Some people said that President Jonathan has not built roads and other infrastructure, you cannot say that of him. If they are saying that, what were the situations of our roads when he became President? If you travelled during the last Christmas and saw the condition of the roads. You would agree with me that he is working.
But some people will wonder if it is only roads you could point at?
But he has performed in other areas as well. Take a look at our railways. I was so happy  because I have little children who didn't know when the rail were running, but this past December, we saw train running from Port Harcourt to Enugu.
The President has not hidden his plan for the aviation sector. When you go round, you will realize that he has worked on that sector too, including agriculture, economy, and attracting foreign direct investments.
What is your take on his anti-corruption war?
I am surprised that the opposition is talking about corruption. Obasanjo in his inaugural speech as President in 1999, commented on corruption. He said he was going to fight corruption, but this corruption turned back to fight them. And you can see that is what is happening to Jonathan now.
Do you think his approach to the fight is yielding result?
The fact that the President has not jailed anybody does not mean he is not fighting corruption. He said "I am putting structures in place to be sure that if you block the way people steal money, there will no more corruption''. The President is devising a system that was created by past leaders that will not tempt people to commit corruption. He said we have to put some processes, checks and balances in place, so that people do not just steal money anyhow. If those things are put in place, how do you think people will engage in corruption?
But the opposition insists his government is corrupt?
Those pointing accusing fingers at the President have not cleaned their cupboard very well. How could Buhari say he wants to come and fight corruption? When he was Minister of Petroleum, it was reported that $2.8 billion was missing. He has not accounted for it till today. At that time, one NTA journalist, Ms Vera Ifudu, reported it extensively.
There is also this case of 53 suitcases that passed through Buhari's ADC, Jokolo, which has not been accounted for till date. What do we see in this country as corruption? Those corrupt people who fought Obasanjo are still fighting back. Buhari committed the greatest disservice to Nigeria by toppling a civilian government. If Buhari was still in army, the way he is fighting to become president, he would have toppled this present government. If Jonathan were to be like Buhari, he would have probably sent Buhari to jail for the atrocities he committed.
Do you think the Transformation Agenda is real?
Remember that the President told Nigerians that when he was growing up, he had no sandals. The same man who said he had no sandals  after going to school is now trying to prove to Nigerians that there are so many people like that by building 125 Almajiri schools. That is impacting because most of these Almajiris did not have the privilege to go to school, rather, they go pan-in-hand begging for food.
These young lads, through Jonathan's intervention, are now in classrooms and would be future leaders. So, if you are building for the future, you are impacting lives. We were spending billions of naira importing rice. The agricultural reform plan of this administration has changed all that, that we now have rice.