ABUJA—Former Military Head of State, General Abdulsalami Abubakar, yesterday, reassured Nigerians that there will be no interim government, contrary to fears in some quarters.
The National Chairman of the All Progressive Congress (APC), Chief John Oyegun also said electoral violence will abate, if electoral law is enforced without bias.
Abubakar, who is the chairman of the Peace Committee, made up of security Chiefs, party and religious leaders, told journalists during a press conference that going by President Goodluck Jonathan's promise, elections will hold as scheduled, and May 29 handover date remains sacrosanct.
He equally called on party leaders to call their followers to order, warning that the country cannot afford to entertain another violence after the elections.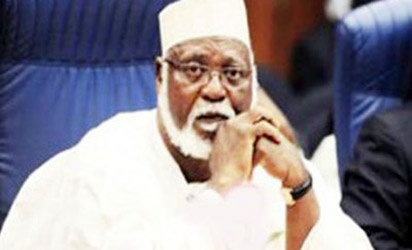 His words: "We have been meeting to review where we stopped at the last meeting. We are aware that the election dates have been shifted. There have been a lot of rumours going around the country, whether there are plans to form an interim government.
"We have heard from the president that election will hold in March. He has also said that there are no plans to have an interim government. We are appealing to Nigerians to focus their minds on exercising their rights on election day.
"During the meeting here we were fortunate to have the chairman of APC and representative of the PDP chairman. We are appealing to our youths to ensure that they are not used as thugs during the elections.
"It is always the children of the poor that are used during the elections. We appeal to party leaders to tell their supporters and candidates to be law-abiding. We must ensure that the peace we have had so far is sustained.
"We are going to have a meeting with the chairman of INEC to ascertain what has been done regarding their preparedness. We also discussed that during our meeting. We will ask INEC where they are currently.
"The committee like every Nigerian is not happy with the violence and what happened in Rivers state. We are following the issue. Even if I give you a guarantee that there will be peace, I cannot dictate what you will do when you leave here. Nigerians must ensure we maintain peace."
The meeting was attended by PDP Deputy National Legal Adviser, Alhaji Bashir Maidugu, Presidential Adviser on Inter-party Affairs,Chief Ben Obi, the Chairman of Interparty Advisory Council,Dr Tanko Yunisa among other religion leaders.
Oyegun condemns electoral violence
Oyegun in an interview with Journalists after the meeting said unnecessary attack on the INEC, the use of permanent voter's cards and opposition must be reduced to avoid overheating the polity.
According to him, "There must be change, there has to be change, if we de-escalate the un-necessary political war that is going on now.
"The massive attack on INEC, the massive attack on the use of PVCs, the massive court actions that are going on now to have our candidate disqualified and even have the PVCs declared illegal by the court of law. In law, you can get any kind of judgment, anything before the court is 50-50.
"If all these can de-escalate, people will start believing that this election will be relatively free and fair. In that condition, Okirika issue will be bad dream that will be behind us."