Port Harcourt—One of the policemen shot at the governorship rally of All Progressives Congress, APC, at Okrika, Rivers State, last Tuesday, pleaded with newsmen, yesterday, not to let his mother know he was among the casualties.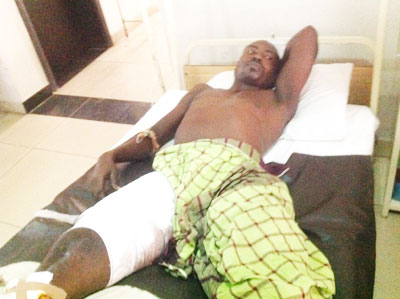 He said: "I cannot talk to the press; I do not want my mother to see it in the papers that I was among those shot. She might just die."
Three policemen and a civilian, who gave his name as Fred Ebe, a fisherman, were those at the orthopaedic ward of Braithwaite Memorial Hospital, BMH, when Vanguard visited yesterday.
Some members of the medical team of All Progressives Congress, APC, who spoke on condition of anonymity at the hospital, said about 28 casualties were admitted, adding that five were for bullet injuries.
The team said about five were policemen, and that one of them died on the day of the attack, adding that the other 23 were visiting the hospital for treatment.
Meanwhile, state chairman of APC, Dr. Davies Ikanya, has said the party would still hold its governorship campaign rally at Okrika.
The disrupted Tuesday rally was the third time the party had made efforts to hold its governorship campaign in Okrika.
He said: "The first time, unknown persons invaded the venue, while the place was being set up for the rally. They destroyed everything in sight, a situation that made the police to advise the party to cancel the rally.
"They could not get Police nod to hold the rally when they made two other efforts as the Police advised them against it."
Chairman of the party, Dr Ibiama, said the party would still take its message of hope to the people of Okrika.
He said: "APC will still organize its campaign at Okrika. We cannot be intimidated because Okrika is part of Rivers State. If Peoples Democratic Party, PDP, can campaign in Okrika, why can't APC campaign in Okrika?
"We have signed two different peace accords with PDP. Sadly, PDP has violated all known agreements. PDP is not fit to ask anybody to vote for its candidates. PDP attacked our members a day after we signed the first peace accord."